Happy Tuesday, I hope you had a great weekend! I'm sure you've noticed my blog schedule has been a little off lately. I've been super busy with wedding season and I've also been trying some new things so, please bear with me while the dust settles. If you've missed my new series, Saturday Style, please check it out and let me know what you think. I'm hoping you'll enjoy reading it as much as I enjoyed putting them together. (This Saturday I'm putting together a fashion round-up!)

With all of the May madness setting in, I need a little break so, this weekend, I dragged G out for a quick thrift-store trip. He's not the biggest fan but he really is a huge help on these trips.  And, I found lots of treasure!
Don't you just love it when you have a successful thrifting trip? If you're a thrift-store novice, the first thing you need to learn is to always have a "thriftlist" thrift-wishlist) in the back of your head. Or, written down somewhere if you have a memory like mine. The funny thing is, I've been looking for old wooden windows for different projects for years and I've never found any that would work. But this past Saturday I hit pay-dirt!!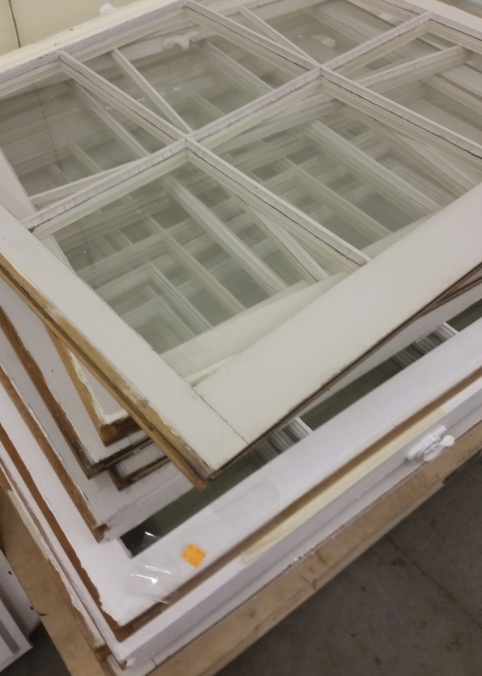 I know, right!?! They had 2 stacks of wooden and vinyl windows for $5 each sash (window top or bottom section).  I got so excited I started contemplating buying the whole stack. Please, don't be a greedy thrift shopper! I did buy 2 though, since I'm sure I'll never run into this again. The man at the Re-store even suggested I pick up some of the vinyl windows for a DIY greenhouse project, a la Pinterest but I managed to keep it together long enough not to go down that road. (Maybe later, right?)
There was also an old, all wooden ladder for $10! Hmmm, I wonder what room I can work that into? And, of course, there are always little knick-knacks like small frames, prints, silver bowls, kitchen do-dads, etc. that you want to be sure you don't miss! Can you say $1 frames?
The last few times I've been thrift-shopping I came up dry every time. I thought I had finally found the wooden closet doors I've been searching for a week or so ago but I didn't have the measurements with me. There's nothing worse than finding "the perfect . . ." and then, it just won't fit. Erghhh.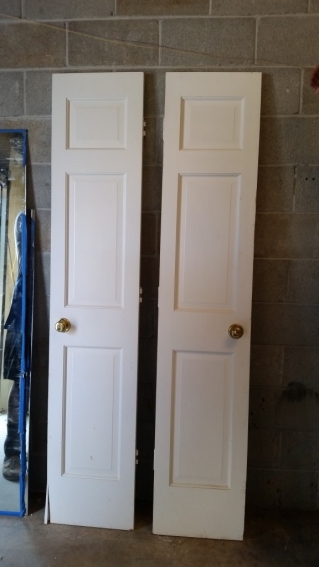 The bottom of one of the doors needed some love but I still think they're lovely. Oh well, back to the hunt.
Where do you like to thrift-shop? If you're in the Upstate South Carolina area here are some of my favorite thift-y spots,
Salvation Army Store - 417 Rutherford Street, Greenville - Great for old furniture, vintage clothes, frames, and old silver
Habitat for Humanity ReStore Greenville- 305 Rutherford Road, Greenville - Perfect for large items like kitchen and bathroom sinks, doors, light fixtures, and random house supplies
Habitat for Humanity ReStore Easley -6776 Calhoun Memorial Highway (US-123), Easley -Good for unusual, vintage home items, furniture, and some lighting items