The summer is slowly coming to an end and I'm so excited for fall. It's so hard to keep working on things around the house when I'd much rather be in full - craft mode with new Autumn and Halloween projects. Oh well, priorities, right? If I don't finish and get the downstairs put back together soon, I'm going to regret it when the holidays roll around. This summer has been in accelerated chaos gear since June. I don't know who I was kidding thinking it would be easier with G at home.
For example, today's project should have come together much quicker than it did. But anyway, here we are and I hope you enjoy it!
Generally, the overall "look" of our living room is finally starting to come together. I'm going for an eclectic mix of vintage-y details and bold colors and patterns. Sort of a boho-chic feel.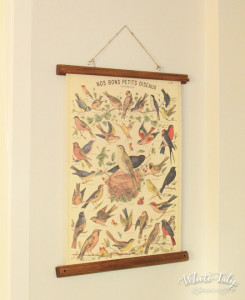 Since you already know I have a bit of a thing for birds this project won't surprise you at all. I found this vintage-look, Cavallini & Co. poster from Pomp & Posey's Amazon shop a few weeks ago and had to find some way to display it. The "frame" has a classic schoolhouse look and doesn't put any holes in the poster itself. (Bonus!)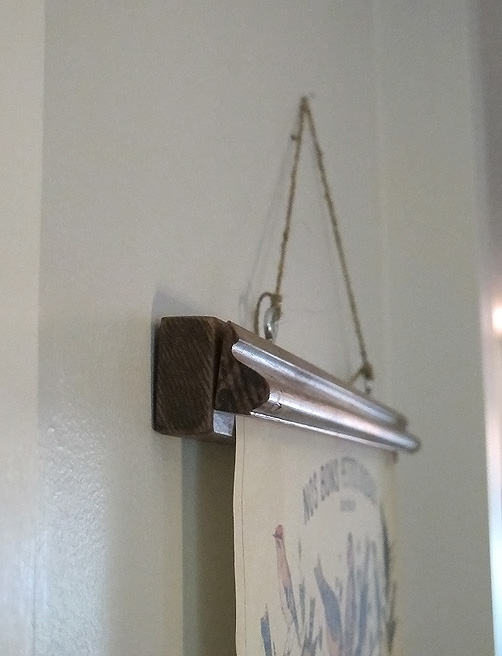 The poster is held between 2 -felt lined wood pieces that are tightened using hex-screws and hung using eye screws and simple twine. All of the wood was scrap trim that I found at my local Habitat for Humanity Re-store The thicker back piece is plain and flat ad both front pieces have a decorative profile.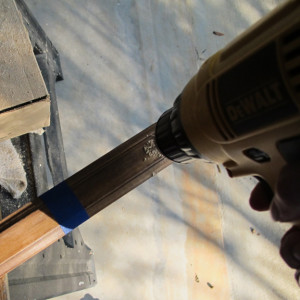 The hex-screws, placed an inch from each end, hold the front piece to the back piece nice and tight. That way, when I'm ready to change the poster all I have to do is loosen the screws and slide it right out! Easy peasy! The blue tape you see was to hold the pieces together while I measured and drilled the holes. It really helps keep everything from moving around while you're trying to keep everything lined up.

Have you created your own "vintage" project? I'd love to hear about it! Feel free to share pics on my Facebook page!
I'm linking up over at Met Monday, Something to Talk About,