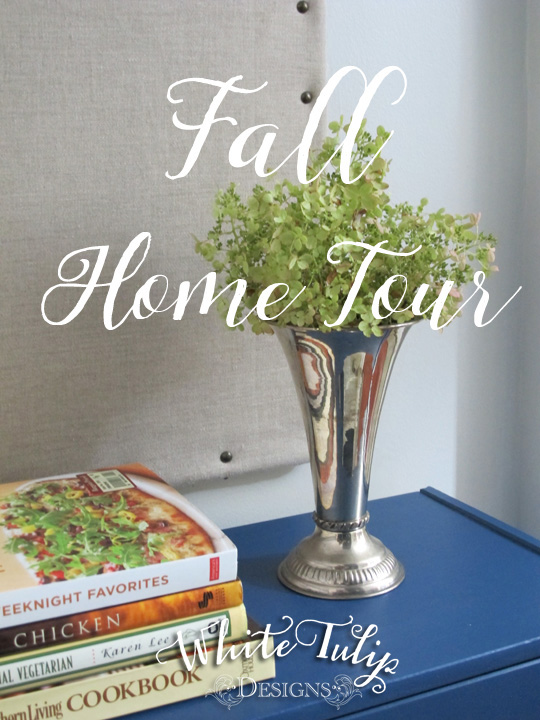 A few weeks ago I was invited, by Brenda with Cozy Little House, to participate in her 2015 Blogger Fall Home Tour! I've been super excited about joining in since this is my first home tour but also because this is a pretty amazing group of bloggers. If you've been following along, then you've seen the entries and their fantastic homes. I've been over-thinking the process of putting together a home tour since last spring and this is the perfect opportunity to jump in feet first. (Don't forget to download the free printable at the end of the tour!)
Let's get things started:
My Mother-in Law gave me this beautiful sewing cabinet a few years back and I love having it in this little corner to serve drinks from when we're having a party.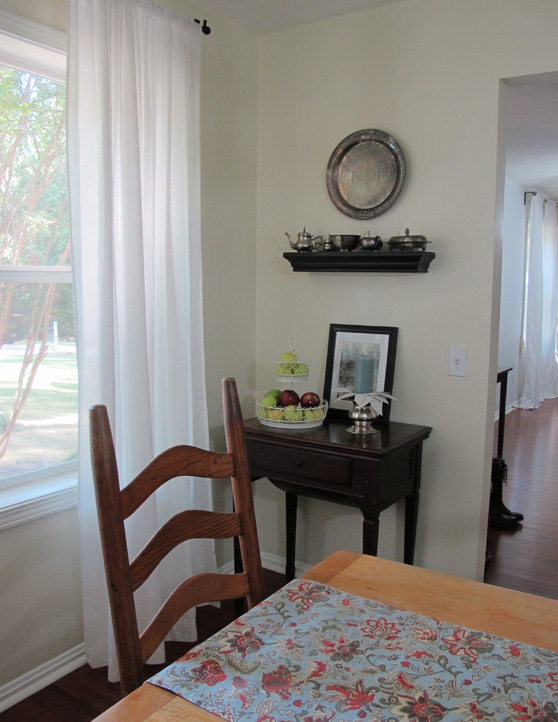 The sign works into my "pumpkin patch" display pretty well, don't you think?



She's such a ham! You wouldn't believe how many pics I had to edit out because of a random tail or ears sneaking into the shot. . . . Who me?


The hydrangeas had fairly sad little blooms this year but a lot of them. I love being able to have flowers around the house.

You wouldn't believe what I made this wreath out of, if I told you! Hmmm, I think I hear a tutorial coming!

Look who popped in to say hi! She loves watching me in the kitchen and most of the time she stays right there!



Such happy coincidence that black works so well into my kitchen! When I start adding in the Halloween touches they will fit perfectly!


This little chair was the first piece of furniture I ever bought for myself. I paid $15 for it when I was 22 years old. It was a ratty mess when I got and my parents had it re-covered for my birthday that year. I've been thinking about updating it soon but right now it fits so well into my fall decor!

Love a gallery wall! Even a little one is fun to put together. I'll be sharing the tutorial for this little leaf garland next week but the text print (lower left side) is your to download, free! Link is provided at the end of the tour.



I've been finally getting around to doing something with my reclaimed windows from earlier this summer! (Stay tuned for more window inspiration!)


Click here for printable download!
*Please note, this printable is provided for personal use only. Printable show was printed on a vintage book page. You can print on any paper you choose but the file itself is set up to print in black and white.
Next up in the tour is My Thrift Store Addiction!

Friday's complete line-up:
Links to the projects shown within the tour:
Linking up at Met Monday, Something to Talk About, Wow Us Wednesday,