Hi, I'm Jennifer. I originally started my blog in 2013 to showcase my stationery design but, not too long ago, I decided to alter the format a little to include more of "me".  I wanted to write a blog that was more like having a coffee date with a friend than anything else.  So now White Tulip Designs includes interior design, home DIY projects, crafts, recipes, inspiration and just about anything that strikes my fancy. So come in, have a seat and ENJOY!
As far as the name, White Tulip Designs, I get asked what it means quite a lot. So, I assume you're curious too! Basically, white tulips are my very favorite flowers. Tulips always seem so strong and sturdy but quite delicate when you think about how quickly they fade away. But just like an old friend, they come back every year just about the time that you feel like winter will never end to remind us that warm weather is on it's way.
I'm 43, a proud Southern girl, avid crafter, reader, and home decorator.  But, first and foremost, I am the proud Mom of an amazing middle-schooler and wife to my wonderful Hubby. We live in the Upstate of South Carolina perfectly nestled between the mountains and the beach and an easy drive to Charlotte N.C., Atlanta G.A., Charleston S.C., or Asheville, N.C.
I'd love to hear more about you, too! Feel free to comment and ask questions following any post, no matter how old, or drop me an email for a private reply.
Sign up to receive White Tulip Designs in your inbox! Subscribe here!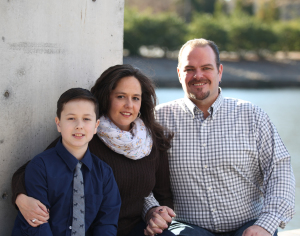 If you really want to know a bit more about me you should take a look at some of my favorite posts. Not all of them are even the most popular but they sure mean a lot to me!