Recently, I've been working on a different kind of family tree project for Hubbs that I started a long time ago and as life happens I never seemed to get back around to updating it and adding on to it but, as it is, the design is pretty forgiving. I got the idea because I have a friend who finished a fairly massive genealogy project. And, when she finished and printed her family tree to hang in their living room it seemed like, in no time at all, it needed updating. Since it was a print it would be a huge undertaking to fix it.
That gave me the idea to create something more of a "growing" family tree.  I wanted something more "organic" rather than the standard  tree layout. This allows for family to be added easily and even moved around, if you're careful. To start, I painted a thin and branch-y tree and added our name at the bottom. Our name is printed on card-stock and I used foam mounting tape to give it some dimension.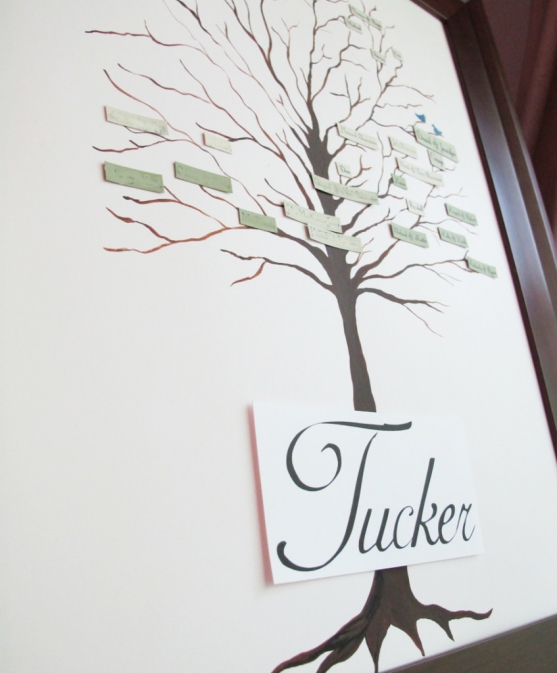 Rather than starting in the trunk, I painted to little love birds and added in "leaves" for our family members moving up (for his family) or down (for mine) and back toward the left. This left lots of room on the branches for any new additions to our family.  The birds (for me and Hubbs) is where the "family" grows from rather than the trunk.
If you have a more modern, unconventional, family (don't we all!) this is a great way to display. This way, things are more of an organic layout rather than sort of a "hierarchy" of family.
Now, I just need to find a good place to hang it! Have you put together an unconventional family tree? I'd love to hear about it!
(Don't forget to stop by tomorrow for Saturday Style!)