Don't you hate it when you have something that you keep losing track of because it doesn't have a proper home? For me it's my little collection of food magazines. I have a rather small collection and some of them are a few years old. But I do like to keep them on hand for reference when I creating new recipes. They are a bit big and floppy to keep on the shelf with my cookbooks so I've been tucking them in various places around the kitchen. Bad plan, believe me.
I've been plotting to add a few little shelves for spices along the side of the top cabinet that falls behind the door anyway. Looking at some mighty adorable ideas for children's book storage on Pinterest, it hit me that I could use a similar strategy on the lower cabinets to keep my favorites magazines safe and sound. And I can do it by using what was basically just wasted space! Score!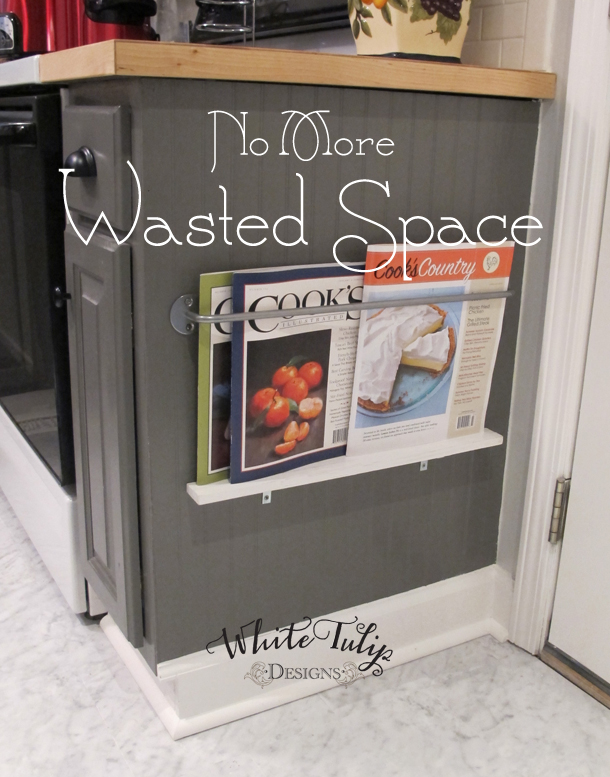 I used a Bygel rail from Ikea (here's a similar one!) that's part of their kitchen wall organization system along with a piece of leftover trim (free is my favorite!!) and painted it out in the white trim color (Bistro White from Valspar).
Since I knew it wouldn't need to hold much weight (I mainly just collect food mags when the mood strikes) I didn't worry about anchoring the rail or the wooden ledge at all. I used 2 small corner braces under the ledge to attach it to the cabinet wall and they are quite sturdy.
Here's what the space looked like before . . .

Nothing wrong with it but still a bit of wasted space. And now . . .

See! Sweet little project in no time flat and my magazines are all safe and sound!!
While you're here don't forget to check out my built-in spice rack, cabinet organization or take a tour of the whole kitchen!
*This post includes affiliate links.
Linking up over at Wow Us Wednesdays, Metamorphosis Monday and The Scoop, and Remodelaholic
Save