I can't even express to you how good this smells while it's cooking. Me - YOW!
This is a good make-ahead for the holiday weekend. Leave of the glaze and it makes for a great breakfast bread. (However, I'm pretty sure it won't make it very long.) It's also super-easy to make.
*downloadable recipe included
Pumpkin-Nut Bread
3/4 cup canned pumpkin
1 3/4 cup sugar
3/4 cup unsalted butter softened
pinch of salt
1/2 tsp pumpkin pie spice
2 tsp. baking soda
1 tsp. vanilla
2 cups flour (all purpose)
1/3 cup buttermilk
5 eggs
1 cup pecans (roughly chopped)
1 cup golden raisins (I plump mine in white rum)
Preheat your oven to 300 degrees. Start by mixing the first 3 ingredients together in a large bowl until well incorporated. Add the salt, baking soda, pumpkin pie spice and vanilla.  At this point, alternate adding the flour with the buttermilk and eggs. Once everything is well mixed use a large spoon to stir in the nuts and raisins. (see below, for plumping instructions)
Transfer batter to a bundt  pan (affiliate link) that has been lightly greased and floured. Cook in the center of your oven at 300 degrees for 60 minutes. Prepare glaze.
Remove pan from oven and let it cool for 15 minutes before you flip onto your plate.  Glaze top and sides with off-set spatula or butter knife.
Cinnamon Glaze
2 cups confectioner's sugar
1/2 tsp vanila
2 tbsp butter softened
1/4 tsp cinnamon
1 pinch nutmeg
2 tbsp milk
Whisk all ingredients together until smooth. It's a bit stubborn at first (using a fork helps) but if you keep at it, it will get nice and smooth.  Use as much or as little as you like. Glaze will set much like an icing.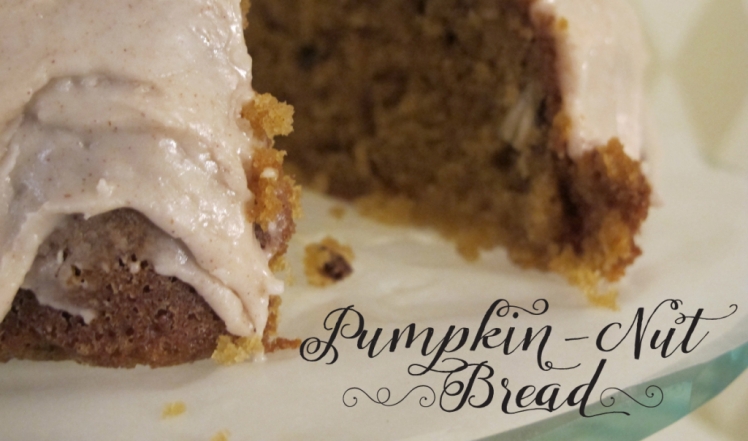 *To plump your raisins measure out 1 cup of raisins and cover with approximately 1 cup of white rum (use dark rum if you use regular raisins).  Cover with plastic wrap and let sit for 4 hours.  Raisins can also be plumped in hot water if you prefer.
Enjoy!