This may seem like an odd project but I really love the feel of nature inside the house. I've been seeing a lot of the mounted butterflies, dragonflies, and other colorful beauties and, aside from the creepy factor, I really like them! I started really looking into them and found that the nicer ones can also be a bit pricey too. So, I started tinkering with creating a little watercolor butterfly magic of my own.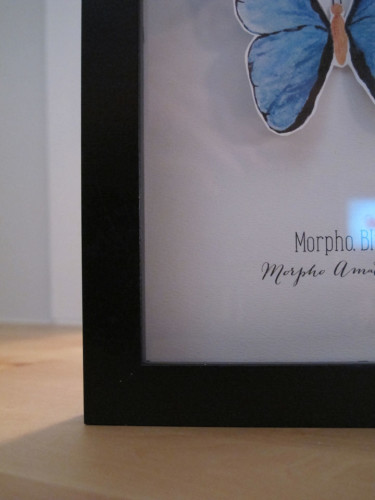 No butterflies were injured in the making of this project! She's made from a watercolor painting and given a little nudge to be a bit more fun!
I used the Ikea Ribba frame as a shadow box to put this together. I'll post about that process a little later. But to "mount" the butterfly start by printing and cutting out the file below. There are guidelines around the edges of the butterfly and a "mat" with the scientific name to attach it to. Mine is printed on bright white copy paper.
Cut a piece of heavy black thread (I used quilting thread) about 4-5 inches long. Put a know in either end and trim the excess. Using wax paper and a pencil to add dimension I Mod-podged the antennae to stiffen them. You can see here that I used a pin to hold the antennae down to foam board while it dries.
Let the antennae dry completely overnight. Pull them off of the wax paper very carefully, keeping the "V" shape intact. There will be some dried Mod-podge flakes still on the thread but you can use your fingers to smooth them down. Don't pick it off as it will ruin the shape. Give a gentle fold, without creasing too much, to the butterfly. Then you'll want to attach the base of the antennae "V" to the top of your butterfly using glue.
Using Pop-dots I attached the butterfly to the mat page. Now he's ready to frame! Come see him featured on my new gallery wall here:
Download the printable file here: Butterfly Mount
For shadowbox tutorial see HERE.