It all started with 2 metal Ikea shelving units ($14.99 each) and a stack of pallet wood and a few left-over 2×4's! I started back in the winter and the cold made it tough to work on. (I'm a complete wimp below 40 degrees.)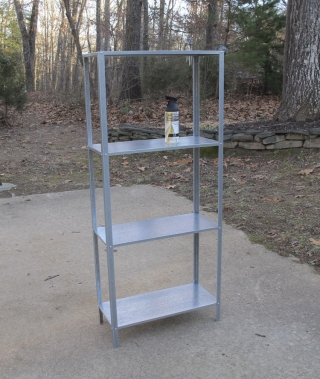 The boys helped with painting the shelves a matte - spray paint. They painted the top to bottom, the undersides of the shelves and everything. I still had to touch of some spots by hand and it took just over 2 cans of spray.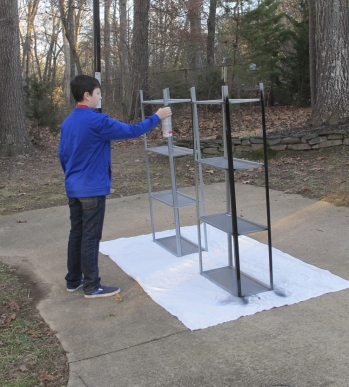 Once everything dried and it warmer up quite a bit outside I started working on the frame using lengths of 2×4. I measured equal pieces to build up the height since the original shelves are quite short. Next I measured pieces of pallet wood to help hold the inside braces in place and finish the outside at the same time.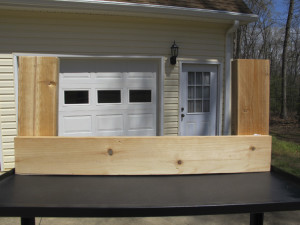 With all of the pallet pieces cut to size, I stained them all using a mix of 2 shades (Colonial Walnut and Windsor Oak) from the Minwax Water-Based Rubbing Stain collection. It really helped add a little something to the wood. Then I rubbed it over with Feed and Wax wood polish.

I used wood screws to attach all of the pieces together and it's super sturdy! I'm still playing with styling the shelves and the wall isn't nearly finished but here is the finished shelving project! Done!

Next up . . . what to do about that annoying post - thingy in the middle of the wall. I can't wait to show you how I worked that one out!
* This post contains affiliate links but all opinions are my own.
Linking up at Wow Us Wednesday,