Doesn't it seem like we just finished Christmas? And we're already looking at February, Yikes!
I've created a quick Valentine's wreath project here.
Start with a plain wire hanger. Using regular pliers, straighten it out completely. (Straighten the spiral at the neck of the hanger as much as you possibly can. Then find the middle and bend the hanger "stick" in half. I put a bit of a twist in it to help with the rounded sides of the heart. Bring the two sides around, using your pliers to mold the shape as you go. Now, hook bend the two top ends to hook together and finish by bending them into the center of your heart.
Cut a pile of ribbon and fabric scraps in different widths, textures, colors and patterns. All of them are roughly 7 inches long. Some of the ends are cut at an angle and some are straight across. Starting at the bottom of the heart "V" I tied each strip onto the form randomly choosing from the pile. As you go along twist the knots back and forth to fill out the heart.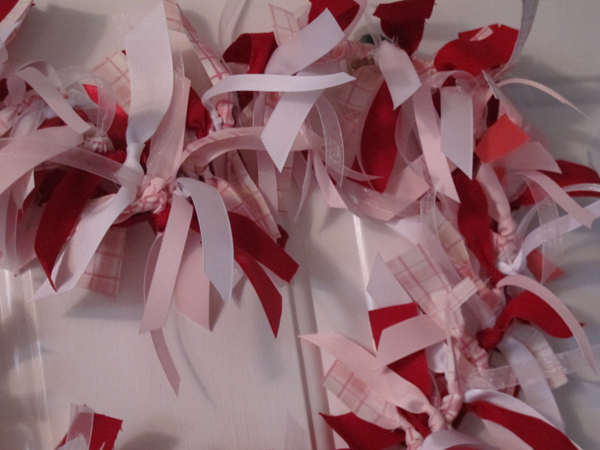 And, how cute is this? All total, it took about 2-3 hours to put together. Also, it's hanging using 2 magnetic hooks at the top of the heart. You could also make a much larger heart by putting together 2 straightened hangers and twisting them together at the bottom.