When we were working on the kitchen, I wanted our pantry doors to be more like French doors. So, our contractor took a bi-fold door kit that matched our other interior doors and used it to create my cute little French pantry doors. I chose some small but classic looking crystal knobs but they just needed something to highlight them. I considered painting the backs but didn't think I'd like the look at all. Since I've been going for a cottage chic look I looked into adding backplates to the doors. First of all they are pretty pricey and then, I had a nearly impossible time finding something that was small enough to fit the area they fit into.
Most of what I found was something like this: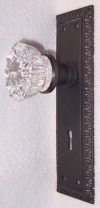 They are lovely but a bit more to tackle than I wanted. So, I pulled out my sketchbook and some medium gray card stock and got to work. After much surfing around for inspiration and ideas I drew the shape I wanted as well as the beginning details onto tracing paper.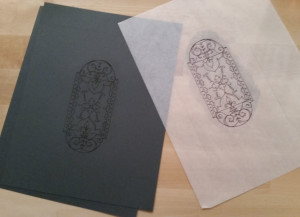 Once I had it like I wanted, I used that as a guide to draw out (in pencil) to matching ones on the gray cardstock. Then, I traced over everything in black Micron pen and then went back over them until I felt the line weights would really show.
I cut out the final pieces, cut a small hole in the center, then screwed them onto the doors using the knobs to hold them in place. Everything looked balanced and well spaced so I took them back off again and layered clear packing tape over the front to seal in the edges.

Finally, cute little door detail and something to help keep from smudging the white doors. Yeah!

Linking up over at Metamorphosis Monday, Remodelaholics
Featured on Savvy Southern Style!