Growing up I always dreamed that I would be a Mom like June Cleaver, Marion Cunningham, or Carol Brady (well, Alice at least). Fast forward 30+ years and I find myself hoping that I can make it through the week without giving up and ordering pizza for dinner. I know having 1 doesn't hold a candle to the juggling act of having 3 or 4 but there are still weeks that seem to slide through my fingers.
So, thanks to modern innovation, we can cheat when I comes to fresh after school cookies. And I don't feel, One. Bit. Guilty. When I whip up these babies G thinks I'm a genius and he even know where they come from. (Bless him!)
So here we go . . .      A little after-school, easy-peasy, cookie love.
Ingredients and supplies-
  Pre-made cookie dough tube
For chocolate ganache
1/2 cup semi-sweet chocolate morsels
2 tbsp. strong coffee (brewed)
6 tbsp. milk (heavy cream is best but whatever you have on hand will work)
sprinkles, dots, etc. -whatever's easiest
Double boiler (I prefer the low-end version using a metal or glass bowl propped on a saucepan -see pic, don't judge me)
1. Begin by boiling a small to medium pan of water.
2. Cut 1 inch slices of pre-made sugar cookies dough (I've done this with peanut butter and it's wonderful but G likes it simple.)
3. Space them evenly on a baking sheet, lined with parchment paper, 6 to a regular sized sheet works great. (The paper makes things lots easier later on. I use the grocery store version, not the more high-end but either is fine.)
4. First, "pinch" the bottoms of your little hearts to form a bit of a point.
5. Now, take a butter knife and notch the top of your heart. Take your fingers and gently soften the edges to smooth out your "heart"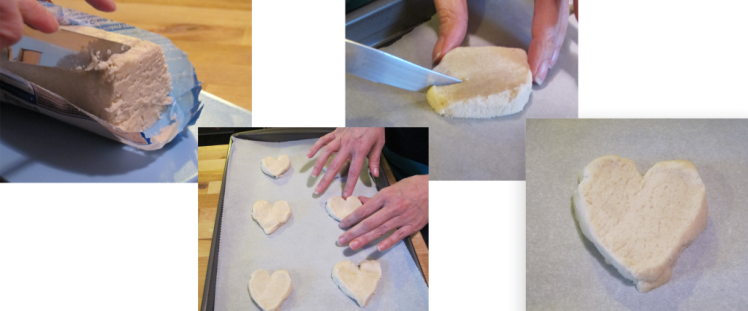 6. Bake cookies per directions (generally 11-12 minutes). I like to make these in small batches.
7. While baking, place a metal or glass bowl over your bowling water and add chocolate chips, coffee, and milk. Stir constantly until chocolate is smooth and melted. Remove from heat and place bowl on your work surface. (Bowl will be very hot)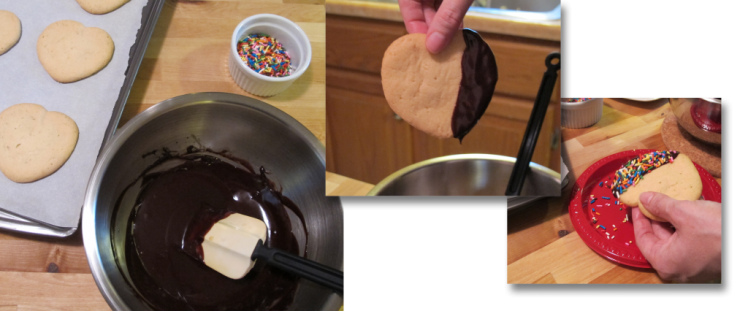 8. Here's the fun part! The chocolate will stay thick and sticky while you work so there's no need to rush. Drip a large spoonful of the chocolate ganache down one side of your heart while holding it over the bowl. Transfer over and spoon your sprinkles over another dish.  The ganache will remain sticky and not get hard so be sure to have your plate ready to lay these out on.
Since G is a little older I like to finish the cookies and chocolate and leave them until I pick him up from school. He still gets a kick out of watching the chocolate sprinkle process. (you'd think there was fire involved.)

Thank you for joining in. If you have a quick and easy treat you like to whip up for your kids I'd love to hear about it!
Until next time . . .