Hi! I hope you've been able to enjoy some warm weather this week. I've been finding it hard to stay inside and get any work done. It seems that people fall into 2 categories. You either love yard work or you hate it. And, if you love it, you can't call it work. You may sweat, breath a little too heavy and end up with dirt in unseemly places but you love every minute of it. That's me. I'm not necessarily great at it but I love it. When I was young and single I had a precious little container garden that I tended and rotated throughout the year. Our yard has been a bit of a monster and my Hubby is in the other camp who doesn't get us dirt huggers. So, with all of the pretty days this week I've had a tough time getting projects finished. However, the new shelves along the TV wall have been completely empty so I've been concentrating on those as much as possible.
With the new shelves the TV wall/Living Room is finally starting to come together! Now I'm trying to get them organized and styled. Since the wall behind is that deep shade of peacock blue (see the Gallery Wall) I'm mainly adding things that are white and lighter colors.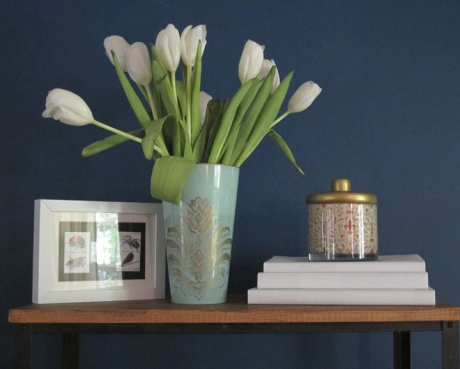 I've had a large aqua colored glass vase that I've been wanting to do something with for a while. I wanted to add some gold detail to give it a bit of zing but I wasn't quite sure exactly what. Then I had the idea to do some sort of drawing on it. As you can imagine, drawing on a slick, round object can be, shall we say, problematic. So, I had the idea to use a stencil.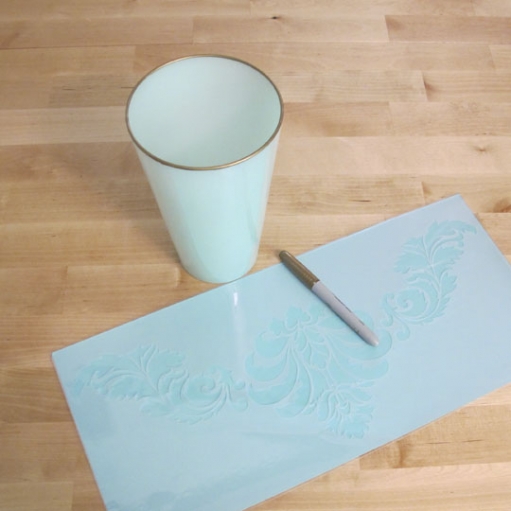 I started off by testing the gold Sharpie marker that I wanted to use along the rim of the vase. After a few, not so successful, attempts I finally decided to use Mod Podge to adhere and seal the stencil to the vase. (I realized later that they make a stencil spray for this sort of thing so you may want to try that instead.)


When I had the back of the stencil completely painted I carefully placed it onto the glass and taped it into place. Then I let it dry for about half an hour. To make sure the stencil stayed stuck to the vase, I used parchment paper to hold it tight.



At this point, I used a gold metallic Sharpie to outline the portion of the stencil that I wanted to use. The Sharpie is still going to bleed behind the stencil but it won't be nearly as bad you think (trust me!)


Next, I carefully pulled off the stencil, from one side to the other and then used the marker to fill in some of the details. I did it sort of free hand since I wanted it to have a bit more personality.


When I was satisfied with everything, I used a Q-tip a little acetone to clean up the edges and the details. If your Mod Podge gets a bit yucky you can use the acetone to clean that as well. (*See note below for more on using acetone.)
I'm pretty happy with how it turned out. And I'm looking forward to having a nice spot for fresh (and not so fresh) flowers!

Here's the inspiration post I started with: TV wall inspiration post!
**Acetone can be a great tool and cleans up a multitude of sins. But, be VERY careful. It will ruin floors, countertops, and anything it happens to land on. There's no way to clean it so you'll want to use it sparingly. And, most of all, you'll want to keep it far away from children and pets. FYI - pure acetone can be purchased anywhere that sells nail polish.
Linking up at Metamorphosis Monday