Good morning! Summer is kicking off with a blast. Hope you had a wonderful first weekend. We kicked things off by celebrating National Doughnut Day (shameful, I know) and worked on some new projects and finally, all 3 of us started work on new seating area for the front yard with a few projects that I'll be sharing soon.
I love how this time of year seems to bring everyone outside to walk through the neighborhood. We live at the far end of ours and I always feel so bad when new folks come walking through and I find out that they've been part of our little corner of the world for more than just a few months. It seems like we get so busy with life that we completely miss the new families as they come in.
One of my friends and I were discussing the new additions to our respective neighborhoods the other day. It's always a little sad to see friends move on but it's also nice to meet new families and make new friends. I'm not always the best at stepping out to introduce myself when new folks move in (I'm sort of shy like that) but I'm trying to be better about welcoming newcomers.
Wouldn't it be great to have a little something in your back pocket for when new neighbors move in to make it both quick, easy, and friendly and welcoming? So, I put together this printable that you can edit yourself, with your own community's information, and have on hand to print as needed.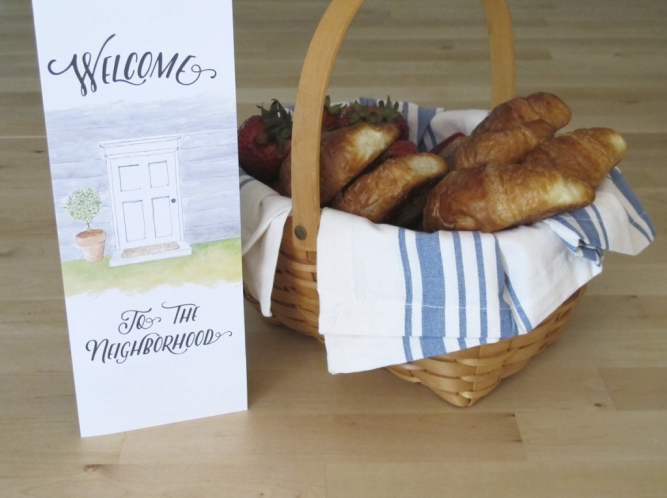 The printable includes spaces to add lots of local suggestions to help feel at home. And, even if you don't eat ice cream, for example, you probably know where everyone likes to go. At the very least it's a nice way to help newcomers get out and explore the area. Not to mention, chances are pretty good that if you show up while they are still unpacking they won't have time for much of a chat.
It's a great way to personalize is friendly housewarming gift. Simply, put together a quick housewarming basket with and easy breakfast or dessert ingredients that can easily be put together without too many utensils, or too much time. Strawberry shortcake is another favorite. No need to go overboard but remember lots of folks have nut and other allergies, so keep it pretty simple.


All you need to do is download the printable file, save it to your computer and open it in Acrobat Reader. From Acrobat Reader you can edit all of the included field with your own information. Now you'll want to save the updated file, print and fold (no cutting or trimming necessary.)

Download the printable here and open in Acrobat Reader to edit the fields with your own information:
Click Here: Welcome Home - printable
You may print as many as you like but remember the Welcome Home printable is for personal use only. - Thanks!
Don't have Adobe Reader? (Download free Adobe reader here!)
If you've missed any of the Saturday Style post from the last few weeks click here!
Linking up at The Scoop, Wow Us Wednesday, and Met Monday