Mmmmm . . . . don't you just love a fresh mixed broccoli salad? There are lots of different variations but when I was a child this is the one my Aunt DeThane used to bring to our family get-togethers. It ended up being passed around and now it's one of my Hubby's favorites. It's a great recipe to prep the parts and throw together at the last minute to help it stay crisp and fresh. However, after the leftovers marinate in the dressing overnight it's not too pretty to look at but it's pretty darn yummy then too!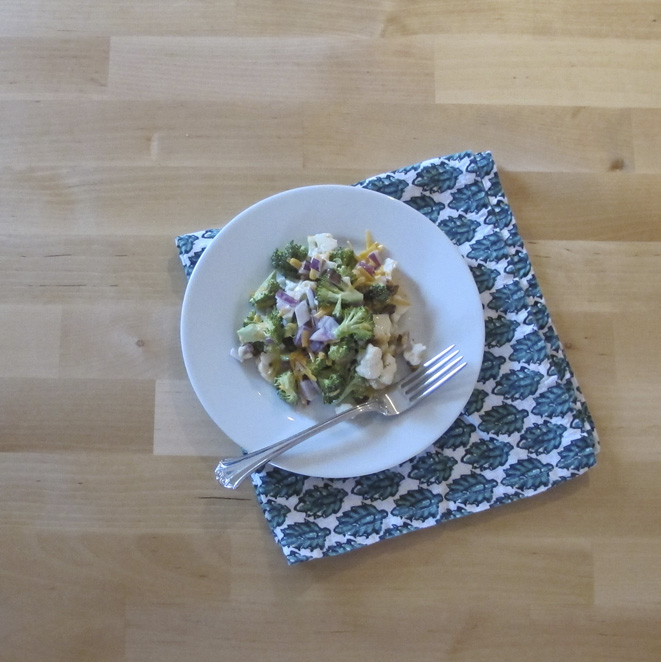 Broccoli Salad
2015-06-09 12:20:47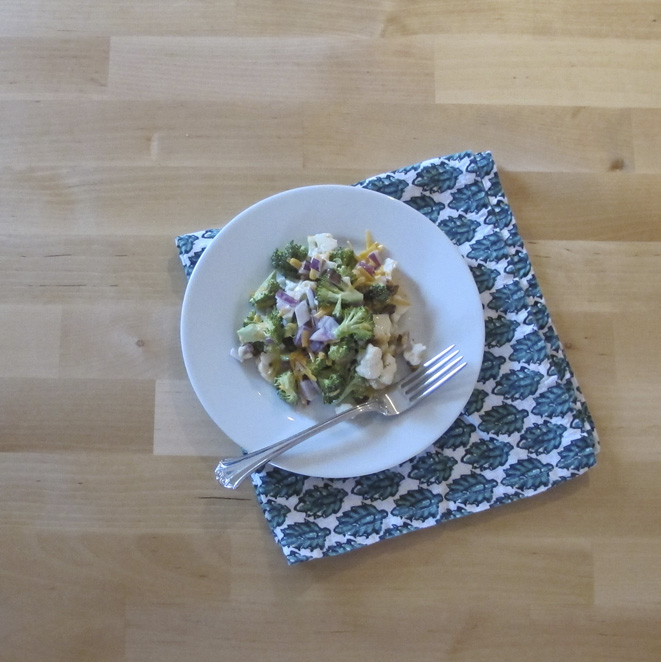 Serves 6
Ingredients
4-5 cups Broccoli (fresh chopped florets)
2 cups Cauliflower (chopped)
1/2 cup Red Onion (chopped into small pieces)
1 cup Cheddar Cheese (shredded)
5-6 pieces Bacon (crumbled into small pieces)
Dressing
1/2 cup Sugar
1/4 cup Red Wine
1 cup Mayonnaise (I use Duke's lite)
Instructions
Mix all ingredients for the dressing, whisk together and set aside. (This will give the sugar a chance to break down so the dressing will have a smooth texture.)
Chop all of the veggies and mix them together, by hand, in a large bowl. Now chop your bacon into small, dime to nickel sized pieces. If you rinsed, make sure your dry it well first. Now mix pieces into your salad.
Add shredded cheese and stir dressing into your salad just before serving to keep veggies more crunchy.
This is great to make ahead for family dinners. Be sure to seal the dressing in an airtight container and refrigerate separately from the mixed veggies.
Enjoy!
Notes
*Want your bacon to add less grease to your salad? Place cooked, whole pieces into a metal strainer and rinse under hot water for a few minutes. Lay on paper towels to dry while prepping your vegetables.
White Tulip Designs http://www.whitetulipdesigns.com/



If you're new to this recipe I suggest giving the dressing a little taste (using a piece of broccoli or cauliflower) and alter the amount of sugar, vinegar, or mayo to your taste. And, whatever you do, do not substitute balsamic, or apple for the red wine vinegar. (I've had people ask me about that before.)
FYI - Don't forget you can print the recipe right from the card above!
What's your favorite summer recipe?
Linking up at Met Monday, The Scoop, Wow Us Wednesday