The best DIY projects come from needing something that doesn't exist, right? What about when you need something that does exist but you just can't find the right one? That's the perfect size, shape, design, color, yada, yada, yada . . . After a while it's just easier to build it. In this case, that's EXACTLY right!!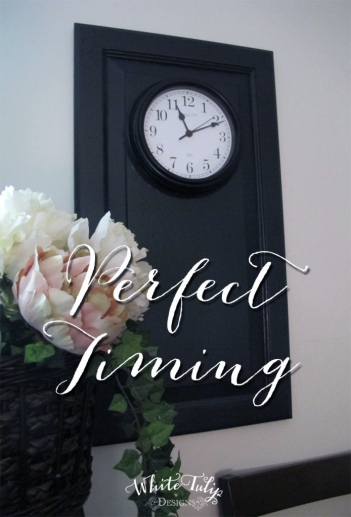 I made a wall clock for roughly $10. Ok, in all fairness, I already had the cabinet door but the clock itself was only $4 and I've seen similar cabinet doors for just a few dollars.
Here's what I started with . . .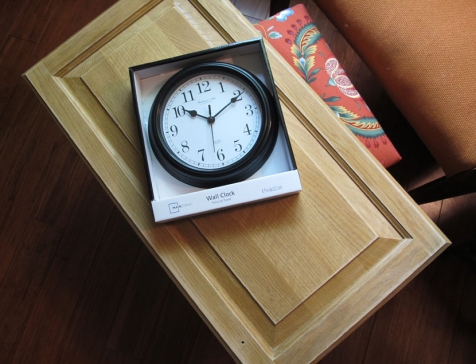 I started by using my hand sander to sander down the front of the cabinet door.  And filled in the hole with hole filler (on both sides) before painting. Then, I measured the clock "face" and the placement of the battery on the back so that I could mark out where to out the large hole.

Hubby used a hole saw to put a hole into the door so that I can reach the back of the clock to set the time and change batteries.  I knew he had the hole bits in his tool box but I didn't quite know how wonderful they are. I had a shoulder injury a while back. Nothing serious, but Hubby suggested the he should do the drilling since it needs to be done in one shot. I'm dying to give it a try myself! There are other ways to achieve the access hole but, if you already have a drill adding the bit isn't a much of an expense as purchasing a new tool altogether.  (See here for more info.)

I sanded down the rough edges after Hubbs cut out the hole and painted the front in a satin black.  Then, I placed the clock exactly where I wanted it and traced it out with a pencil. Using construction adhesive, I put a bead of adhesive along the pencil line to hold the clock in place. After carefully placing the clock I let everything dry flat overnight.

The next day, I used an Exacto knife to trim away the excess glue to smooth everything down. I then, used the sander to make sure all of the edges were completely smoothed down and re-painted the entire front in the same black paint.

And, here's my new wall clock! It's much more upgraded version without being too ornate for the room. Absolute perfection! Ta da!!

Linking up over at Metamorphosis Monday, The Scoop, & Wow Us Wednesday