Today's post is for a recipe and tutorial with an added printable bonus!
And, it make for a lovely Mother's Day or Teacher Appreciation day gift!
In a former life, (while in design school) I spent some a few years working in a beautiful day spa. And one of the most popular manicure perks was our in-house hand scrub. The recipe is for a simplified version using much more budget friendly ingredients but mainly, I wanted to share a tutorial on the proper way to use your scrub.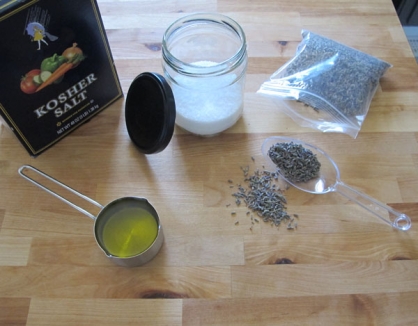 I know, you're thinking that a hand scrub seems pretty self explanatory but, trust me, it's not. But, for now, here's the recipe: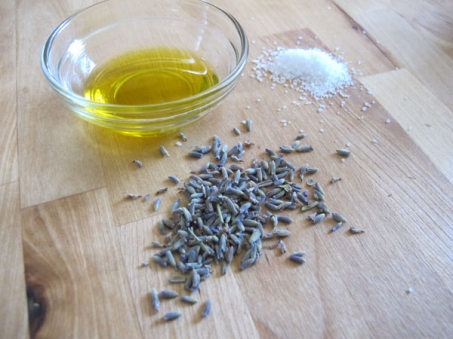 Lavender Hand Scrub Recipe:
1 cup olive oil (almond oil also works well and has a lovely scent)
1 1/2 cups kosher salt
1 tablespoon dried lavender

I start by adding the oil first and then stir in the salt a little bit at a time. Then finish by adding in the lavender. Kosher salt gives a nice, coarse, scrub but you can use table salt as a substitute. I prefer not to use sugar as it can cause residue build-up in your drains. For the jar, I recycled a salsa jar by cleaning off the label and painting the lid!
As an added bonus, I've added a label printable (with original watercolor artwork).

Hand Scrub Process:
Wash hands with warm water and soap as you normally would then lightly dry them. You'll want to leave them slightly moist.
Put a small amount of scrub (about the teaspoon or less) in the palm of your hand. (Notice my adorable "scoop" I picked up from a mis-matched silver box in an antique shop for a $1!)
Scrub your hands together over the sink being sure to concentrate on any particularly dry spots as well as your cuticles and nail.
Using warm (not hot) water, rinse your hands thoroughly and them dry them completely. Super soft, right?
Hold on, you're not done yet. Your hands feel nice and soft because you've scrubbed all of the dead skin off but now you need to protect them. Use a heavy, moisture rich lotion immediately after scrubbing and again in the evening to cover your fresh "new skin".
Whatever you do, do NOT use a hand scrub more than once a week. I know it makes them feel great but soon they will get really tender and can even become drier than when you started.

Don't forget, adding the lotion as the end is the key!
Here are some great choices, they vary in price and I use all of them.
Nail Tek Advanced Hydrating Creme (my absolute favorite!)
L'Occitane Shea Butter Hand Cream
Eucerin Intensive Repair Hand Creme
Printable Hand Scrub Label - click here
As you know, I like to use regular paper and large tape rather than label paper and this project is no different. However, this time, I affixed tape to the back before taping to the front of the jar to seal out any oil or water drips!
*This post contains affiliate links but all views regarding product recommendations are my own! For more info refer to my policies page, thank you for stopping by!
Linking up over at Met Monday, The Scoop,