This week has been a mad scramble and I feel like I have been able to get anything meaningful done.
I'm getting a facelift! Ok, not really but it sure feels like it. Our house is. Last week we jumped in head first to a total front yard makeover. And, today we begin. This is where we're starting from . . .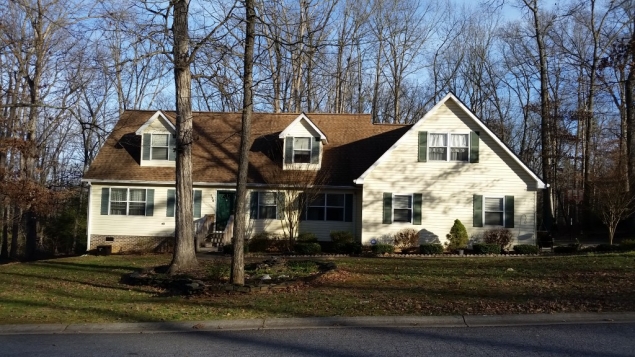 Disclaimer: I had nothing to do with the green shutters/door. Don't they show off the green that has grown on the siding over the last year? Lovely. But by tomorrow it will be dreamy! We're starting the over haul by having the house power-washed and the shutters/door painted a sleek and sassy black. Eeeee! I'm giddy with excitement! My contractor, Tim, who was the muscle behind the kitchen reno is coming to wave his magic paintbrush and make our sad little Cinderella into the belle of the ball!
And! He's adding a flower ledge (if I don't chicken out before he gets here). I think every Southern girl dreams of flower boxes on every window and I'm no different. However, Hubbs is pretty convinced I've lost my mind but he's going along with the plan anyway. I found this adorable ledge idea on Pinterest (from Chiot's Run)  and I've worked out a plan to put one on the large upper window over the garage (far right-side). It's our bedroom window so I'm thinking it will also be really lovely from the inside too! When I saw it, I realized I already had the brackets (from Ikea) on hand for a different project. The brackets only $4 each and the wood I'm using for the ledge was $10! (proper tutorial coming soon!) FYI - my ledge will be 80 inches wide so we'll be using 3 brackets instead.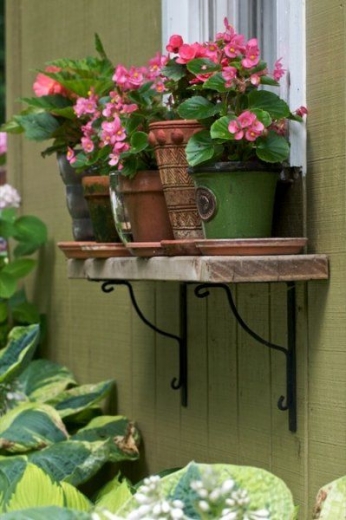 How stinkin' cute is this right? I love this idea! Somehow it feels like it belongs in an adorable little French village.
In the weeks to come we're adding sod, new flower beds, new plants, and a front porch update! If you're wondering about the sod after looking at the pic. All of that lovely green in the front yard is actually moss. Yes, ALL of it. So, stay tuned for more of the fun!
See you soon!