Well folks it's that time of year again. Can you smell the freshly sharpened pencils and reams of new paper? I have a newly minted 7th grader (ergh!) Which means, even the slightest hint of "Mommy" may send me to the dog-house until Christmas break. It's "Mom" only, at least in public, for the foreseeable future. No more kisses in public and hugs are kept to a bare minimum.
When G was in elementary school I loved the reaction he gave me when I slipped a little note or special treat into his lunchbox in the middle of the day. So, if you'll indulge me, I've been feeling a little nostalgic for the e-school days this week and I created a small selection of printable lunch-box notes for you to use this year.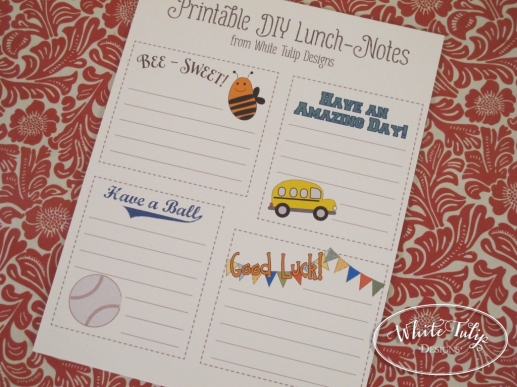 Simply download the printable PDF file here, print, and cut out. Print to your heart's content!
Printable Lunchbox Love Notes!
Coming up next week . . .  more inspirations boards, baby-style! Are you planning a baby shower or nursery? White Tulips will be featuring baby inspiration alongside our wedding and events.
Have a great weekend!