Early this summer, while out hunting and gathering (thrift store style!) I got lucky enough to find and old painter's ladder. It has beautiful, aged, gray wood covered in paint specks that give it such wonderful character. It was terribly unstable, so I managed to get it for $10! Woo-Hoo! The gentleman who rang me up kept shaking his head like I'd lost my mind. Clearly, he was new to the DIY-decor crowd in search of all things rustic, right?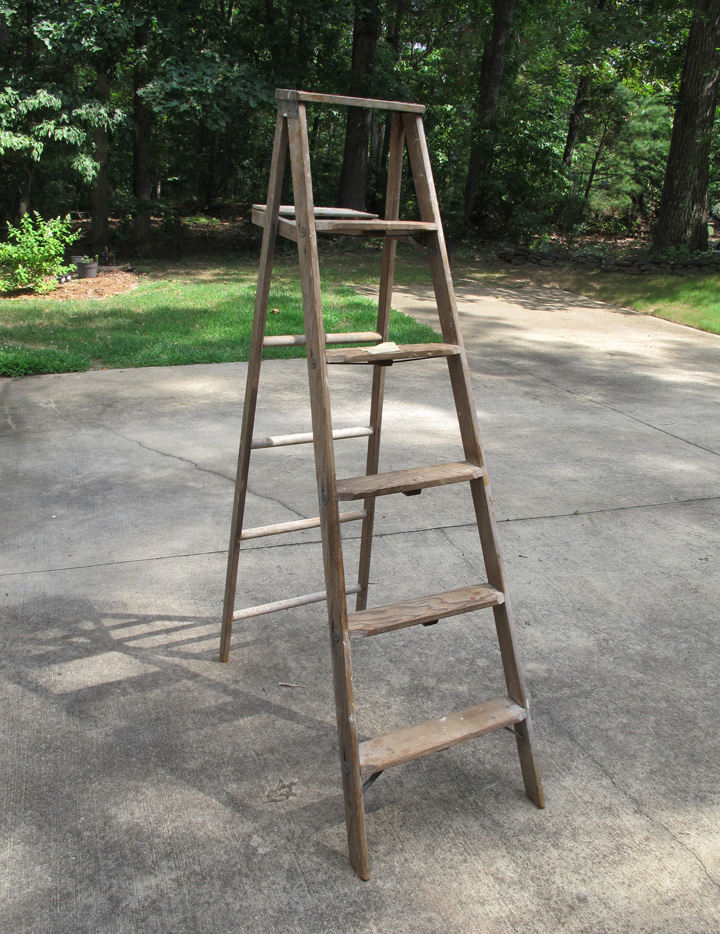 When I got my treasure home, I didn't know right away how I wanted to incorporate her into my decor. However I put her to use, I knew I would have to tackle the stability issue first. A blanket ladder or shallow shelves? Why not both?! I started by cutting the front "stairs" away from the back "ladder" piece using my hand-dandy jigsaw (here's the one I use!) It's so easy a teenage boy can use it!
Once I had the "ladder" cut away, I let me handsome assistant remove the folding shelf. We cut it away so that it was still attached to the ladder. Since it's only attached in one spot I knew I'd need to add support before I put her to use.
Now that the pieces are separated, we wiped them down with warm, soapy water to clean them off a bit. Once that dried, we went back over them with Murphy's Oil Soap. I wanted to keep the rough gray wood (even with the paint drips) so I didn't paint or stain it.

To stabilize the "shelf" at the top of my ladder, I used drywall screws to anchor the moving pieces to the sides of the ladder. Two screws on each side did the trick. Tip: Pre-lean your ladder and mark where you want the shelf will be level before pre-drilling your holes. Take your time so you get the screws exactly where you want them.

Here's a quick pic of the leaning ladder while I was working on styling the corner of the living room. Someone's not as impressed as I am with my cute new blanket ladder!


She's perfectly at home here in the corner with my sweet little plaid chair and some fall details! Now, to find a spot for the stair side!! Hmmmm . . .
Have a lovely afternoon! See you soon!