I'm super excited to share some of the artwork I've been working on lately but, in the meantime, here's a quick project to inspire you . . .
I don't know about you but I LOVE office supplies. But the cheap looking (even when they're not) holders for some of these don't do much for me. The new designs are getting much better and I like the look of Martha Stewart's line of office items but they don't work with my desk. Since it's front and a little off-center in my living room I don't want it to look cluttered and uber-functional. I much prefer the "something" pretty. So, I decided to create something myself.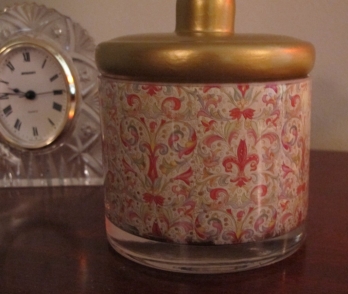 First, I used a glass-bonding glue to glue super-strong magnets into the lid. This bit can be a tad tricky as the magnets will most likely be very attracted to each other. Also, you'll want to be sure to let the glue cure for at least 24 hours before you paint the outside of the lid.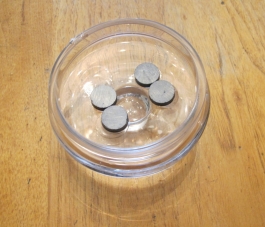 Next, I painted the lid (outside only) with an acrylic paint in a metallic gold. It took a few coats to get a really good finish but I'm really happy with how it turned out.
Originally, I had planned to leave the bottom clear but I decided to add a decorative paper to keep things looking a little cleaner. I cut the paper to size and then divided it into 4 smaller sections. Then, using Martha Stewart Crafts Decoupage, I applied the sheets inside of the jar wall-paper style. After letting everything dry for 24 hours I have a sassy new paper-clip, binder, rubber-band holder for my desk! Yi-pee!


Have a lovely day! See you soon!