Pinterest Project!
Today I wanted to feature a project that I found on Pinterest. Since, like most of us, I have a Pinterest project list a mile long I want to inspire you to get going on some of those amazing projects!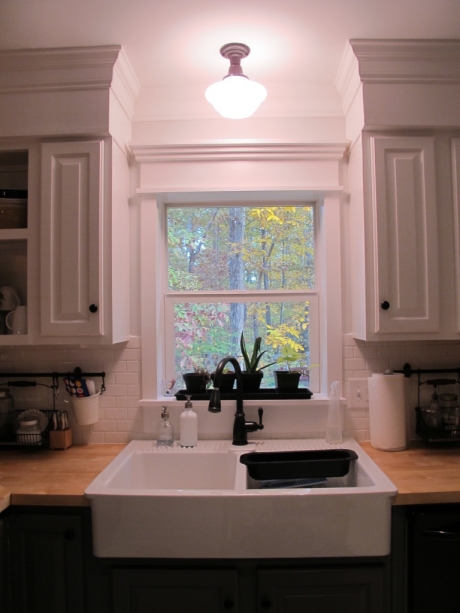 When I started my new kitchen, I promised I would put myself on Pinterest restriction until the contractor was done. I had carefully planned every space and had created a project list, drawn plans, collected materials and fixtures, and felt like the entire project was well in hand. Except . . . our sad little window over the sink. I just didn't know what it needed or what to do about it so I figured I'd just have him paint the trim and be done with it.
However, it kept bugging me to think of leaving it as it was. So, I broke my promise about 2 weeks in and was tinkering around on Pinterest on a Sunday afternoon. I found this amazing post from a blogger, Funky Junk Interiors, and knew it would solve my design problem. My window wouldn't quite fit the plans she had in her tutorial but her directions are so clear I was easily able to edit and make it work for me.
Here's the original (click for link):
From Donna's directions, I measured the window (without trim) and using her materials list as a guide, I sketched out a plan for how to layout my boards. Be sure to keep in mind the area of the wall around the window as well as lighting, cabinets, any artwork you plan to hang, etc.
We nailed everything in to place and then painted it out afterwards. I actually ended up adding the last level (on top) to continue the line of the base of the soffit all around the room.  Here's a detail pic: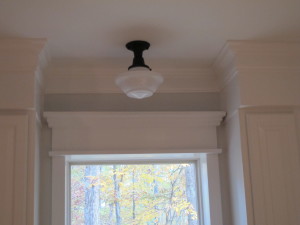 It was the perfect finishing touch. And the project is genius because there are no tricky mitered corners, it's all just stacked wood! I'm planning to start pulling down the trim room by room and replacing with this system. This should be a great project from G and me to take on this summer. (Shhhh, don't tell him!)
I got so excited when I started when I started my blog that I put a comment on the Funky Junk's window post and she sent the sweetest message back. It's so wonderful to know that there is a huge network of people out there quietly doing good and lifting each other up through the internet.
So, back to my window project. See how pretty it is, and how well it all fits together. It is the crown jewel of the whole kitchen! Who would have ever thought that a 10 minute foray into Pinterest could have started all that?
I owe Donna a huge thank you for saving my kitchen reno. Do you have a home project that you were able to complete thanks to an unknown blogger? A last minute idea that saved the day? Or, do you have a go-to blog that you turn to for help when taking on a design dilemma? Please share we'd all love to know!
Don't forget to check out the original Funky Junk project before you go!
Thank you for stopping by today! I'm so glad to have you.