I recently read an article about manicures and pedicures tools. It was basically describing how to best be sure that everything used on your hands and feet stayed sanitized at the spa. You see these articles all the time but typically they only give you half the info you might need and the half they do give is not completely accurate either. Here's the proper way to keep the money clean, store them, and choose the proper tools.
If you want to bring you're own implements and tools I've included a suggested list below. I would be sure to ask your nail technician before purchasing more expensive tools. You'll want to be sure to bring in tools they are familiar with. Before you ask, most states do not allow technicians to cut cuticles and most are trained to only "push" cuticles as it is much healthier for your nail beds. But cuticle nippers are must-have tools for other reasons.
Suggested Nail Kit:
You'll want to start with a basic list:
Fine grit nail files - make sure they are sanitize-able
Orangewood sticks - for pushing cuticles; they are disposable so have your tech throw them out
Ask about your tech's favorite brand/style of cuticle nippers and nail clippers and ask what other tools they prefer to use.
If you really want to stay clean, bring your own polish, base coat, and top coat.
You can keep your implements in a small cosmetic bag but don't put your dirty implements back in it. Keep a plastic bag on hand to put them in until you can clean them.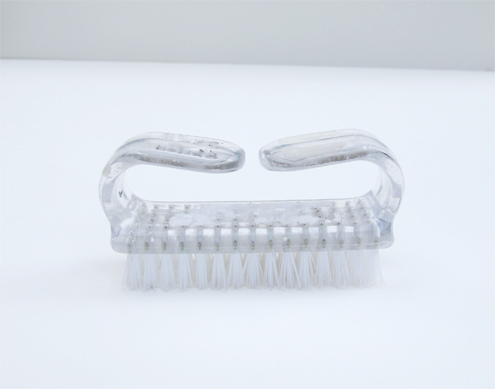 Cleaning your implements-
Using your nail brush scrub everything in hot water with anti-bacterial soap.
Lay everything out to dry. If you let them dry in front of a window that's best.
Spray your dry implements with a mist of 99%

isopropyl alcohol

and let them dry again.

Now you can store your tools back in your bag.
It is very important that you clean your tools properly. If you don't, having your own won't do you any good.
Maintaining your mani/pedi:
To keep your polish from chipping as well as keeping your nails super strong add one coat of top every other day or so. When you polish, be sure that you swipe the end of your nail to seal in the color.
A few side notes:
I held a cosmetology license for a decade (while putting myself through design school) and was over the nail department in the largest day spa in the area.
I've been using Nail Tek brand for over 20 years both personally and for nail clients. If used properly, your nails will be healthy and stronger than ever and your nail polish last at least 2 weeks. Pedicures will last 4 weeks or longer; even at the beach! (I'm not being compensated in any way for this endorsement. I just really believe in this product.)
Have a lovely day! See you soon! ~XOX
* This post contains affiliate links but all tutorial directions and opinions are my own.
Linking up at Wow Us Wednesday,