Ok, here we go with Carrots, part 2. Now normally a sequel can be lukewarm at best but I have to say, I'm pretty proud of these carrots. I think I've decided these are my new faves. Full disclosure, they are not as quick and easy as part 1 but there are some make-ahead options that can help. For instance, I used carrots that I had frozen after cleaning and peeling the original bunch and when they were thawed they were quite soft and full of water so the cooking time was greatly reduced. And, the bacon I used was 3 slices left over from breakfast and re-heated to make them a bit more crunchy (more about that later).
Ok, so I did some research of different cookbooks and made some notes while I was cooking other meals and came to realize there aren't many variations in cooking carrots.  So I put together a list of flavors I thought might work and gave it a shot. I have to say, this is wonderful!! (Is there anything without bacon that isn't wonderful?) Sadly, it's a bit more involved but if you can plan ahead a little it's not quite so bad. Anyway, here she is . . .
Ingredients
4-5 cups of raw carrots -cut into 1-2 in pieces (fresh or frozen)
1 small sweet onion
2 cloves of fresh garlic
3-4 pieces of cooked bacon (minced)
Kosher Salt and pepper- to taste
4 tbsp butter
Instructions
-Preheat oven to 375°
-Slice your onion and saute/carmelize (in butter)
-Chop garlic cloves and add to onions.
-While these are cooking, arrange 2 tbsp. of  butter (cut into small pieces) around the bottom of a glass or stoneware cassarole dish (approximately 9×12 works well)
-Arrange layer of carrots (thaw, if frozen) over butter. Sprinkle with salt and pepper and top with remaining 2 tbsp of butter
- Add sauted onions and garlic evenly over the top of your carrots.
Bake at 375F for 50 minutes. (toss halfway through) If carrots are frozen they will take a little less time to cook.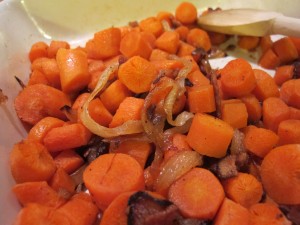 Enjoy!!
Don't forget to print your recipe card, HERE!