Here's a quick kitchen Spice-Up!
Starting with a sweet little spice rack idea. I've been wanting one for a while. Sadly, I've been stashing my spices in a small box on the bottom shelf of my rolling "island" until I could figure something out. Well, when I was working on my magazine-rack project I worked out a plan to build my spice rack along the side of the upper cabinets. Perfect! They are out of direct sunlight, but still easy to get to.
I knew I wanted something simple that would blend in to the decor/layout of the kitchen pretty seamlessly. So I created shelves that had a platform attached to a brace piece with trim around the outside to keep my jars from sliding off.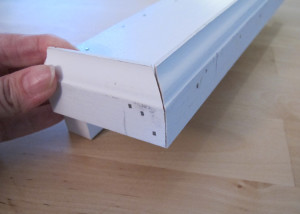 I used a hand-held staple gun (Craftsman) to nail the shelves together. I've had my staple gun for years and I use it quiet often! For this project I used simple brad nails. The shelves are pre-painted the pieces white to make sure I had covered all the little nooks and crannies. At this point, I measured the height of my bottles (more about those later) and marked how far part the shelves should be placed. Then, I screwed each shelf to the side of my cabinet (check with a level first), through the brace, in two places.
After they were all in place, I wiped them down and painted over everything in the same white paint (Valspar – Bistro White) I had used for the cabinets.
After visiting a fantastic spice shop on a day trip to Charlotte, NC (Savory Spice Shop) and collecting fun new spices to try I bought a new set of glass spice jars (see below) and I am so excited to finally be able to fill them up and use them! If you live in an area that is close to any of thier locations, I highly recommend stopping in. They are locally owned and I had the most wonderful time perusing the shelves while one of the owners answered my questions and taught me some new tricks for using exotic spices.
Stay tuned this week as I will be offering a free spice label printable and tutorial!
Thanks for stopping by! I look forward to seeing you again soon!